Celebrity Findom 'A PERFECTLY PASTEL Christmas' PARTY!!
Date: Thursday, December 6 Time: 8-9:30 P.M. Pacific Time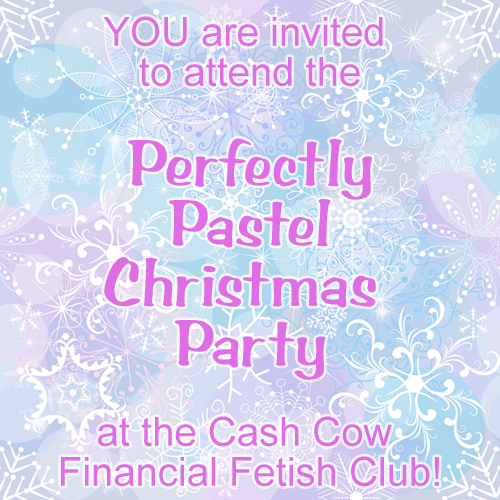 Details: Celebrity Findoms & Findom Stars put on your prettiest pastel pajamas, buttermint & jordan almond hued lingerie, chiffon, lace & tulle dresses! Prepare for THE cutest, prettiest, most delicately feminine & lusciously luxuriant PERFECTLY PASTEL Celebrity Findom star-studded gala of the year! The theme of this event is A PERFECTLY PASTEL Christmas. How adorably ALLURING is that?!
Think: Glittering pastel ponies on a cream coloured carousel * Lavendar unicorns with the palest of rainbow manes * Christmas Pixies in powder PINK Velvet * Sparkling shimmering glittery magick of cotton candy dreams * Marie Antoinette in lacey pastel gowns with cascading ringlets * Pink rosey cheeks from rides in one horse open sleighs * Pretty fluffy Powder Puffs resting on Ruffled Vanity Tables * Creamy Pastel Lipsticks in a Pink striped Boudoir * Pastel Ribbon Candy dusted with sparkling sugar crystals * Fluffy macaroons in the most delicate of pastel shades * and any other PERFECTLY PASTEL pretties you can think of!
This is a celebration of the delicate & deadly power of the Utterly Feminine, the kind of CUTE that controls men by weakening them with Feminine Beauty!
Here's how: Share your favourite Pastel Christmas images, videos, and anything else that strikes your PERFECTLY PASTEL Christmas fancy!
Bring your own: Pink Egg Nog, Sugar Plums, Pastel Candy Canes, Jordan Almonds, Sugar Cookies with creamy pastel frosting, Powdered Sugar Pastries, Petit Fours frosted in Seafoam Green, Powder Pink, and Baby Blue, Pink Hot Cocoa, Sparkly Pink Champagne, Marzipan Pigs, and any other festive hors d'oeuvres that spell C-H-R-I-S-T-M-A-S to you!
FANS/ACOLYTES/SLAVES slaves/servants/acolytes reveal your weakness for FEMININITY to us by disclosing your favourite images/clips of COQUETTISH attributes and ADORABILITY. Perhaps it is that teensy glimpse of a PASTEL BABY DOLL flounced with lace which sent you spinning forever into utter thralldom. Expose your weakness to US. We don't need to be tough & leather-clad, the fact that we are SOFT & PRETTY will cause you MUCH more pain!
Most importantly! Bring your wallets and get ready to SPEND SPEND SPEND on checking off OUR Christmas Lists while you eavesdrop on our slumber party chatter! Goddess Lycia and I will BOTH be revealing special EXCLUSIVES which will ONLY be available to our Perfectly Pastel Party-Goers! We require your interaction completely, it is YOUR job to compliment our selections and ooo and ahhh over our PRETTY in PASTEL CHRISTMAS displays as you SPOIL US ROTTEN! OMG you can hardly wait! Christmas comes but once a year.. NO grinchies allowed!
SELECT EXCLUSIVES: Diamond Diva Princess (MOI) will be streaming a LIVE BROADCAST of Her PERFECTLY PASTEL PRINCESSMAS TREE during the party, which you will NOT want to miss, ONLY party-goers will have the chance to view this EXCLUSIVE LIVE BROADCAST!! Goddess Lycia will be sharing photos wearing PASTEL Lingerie which are for party-goers eyes ONLY, and will be launching the reveal of Her PERFECTLY PASTEL WISHLIST which only attendees can shop from, PLUS a special PERK which you will find out about at the party!
There will be even more EXCLUSIVES which you will not know about until the night of the party!
Click HERE to request a reminder of this event!