Celebrity Findom HALLOWEEN SLUMBER PARTY!! Theme Party: "Well-Behaved Women Seldom Make History"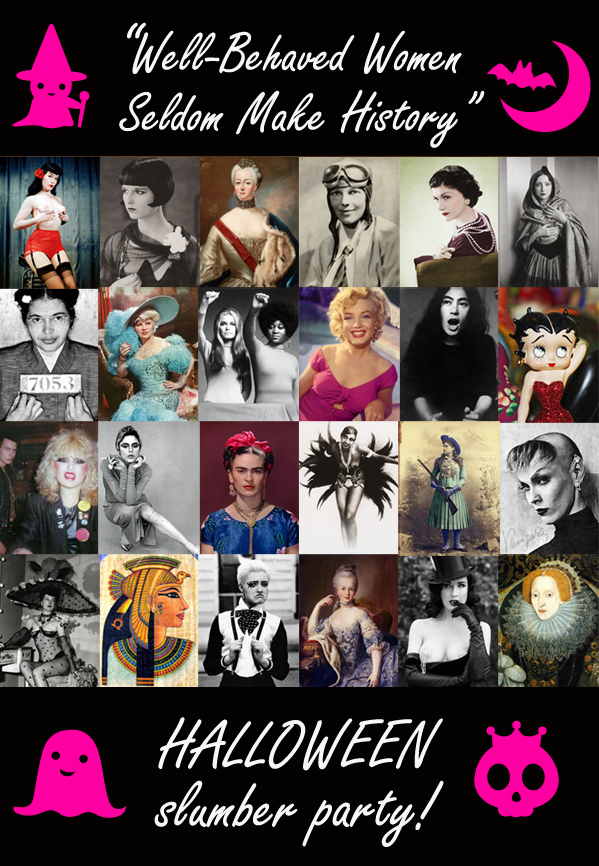 Date: Sunday, October 26
Time: 7-9 P.M. Pacific Time
Details: Celebrity Findoms & Findom Stars wear your cutest PJ's or most scandalously fierce HALLOWEEN COSTUMES and get ready to share your favourite images and stories of dangerously independent, individualistic and fearless women!
~> The theme of this event is "Well-Behaved Women Seldom Make History". A virtual SHOW AND TELL Halloween Edition!
Think: Rebels * Artists * Political Activists * Shockingly Outrageous Performers * Living Works of Art * Haughty Imperialistic Monarchs * Capricious Muses * and any other "Misbehaved Women" you can think of!
Here's how: Share your favourite images and stories of dangerously independent, femininely free-thinking, scandalously misbehaved women throughout the ages. Who are YOUR favourites and WHY?
Bring your own: Pastel-frosted pastries, powdery-sugared cakes, imperialistic confections, elegant bonbons, champagne truffles, pumpkin spice lattes, spiced apple cider, candied apples, and any other festive hors d'oeuvres you simply MUST-HAVE! Let's misbehave! It's a party of INDULGENCE!

FANS/ACOLYTES/SLAVES bring your wallets and get ready to TREAT US to our favourite gifts and goodies while you eavesdrop on our slumber party chatter! In fact, we require your interaction completely, it is YOUR job to compliment our selections and ooo and ahhh over our stories! OMG you can hardly wait!
When this event is LIVE, on October 26, join in the interactive fun by visiting us in the EVENT FORUM here in our club! You will see the event is already posted, waiting to begin, but the doors are locked until October 26 at 7 pm PST!